While there is no TI-84 Online Calculator, there are 3 amazing TI-84 Calculator versions that you can immediately use on your computer.
TI-84 Online Calculator Option 1:


TI-84 Plus CE APP for Chrome OS

This is by far the coolest option. Just head over to the Google Webstore at https://chrome.google.com/webstore/detail/ti-84-plus-ce-app-for-chr/compdaiogbfdpildfbleipdcglmmlojo?utm_source=Eloqua and install the ubercool TI 84 PLus CE APP in 1 minutes and you have a fully functional TI 84 running at your finger tips. Once installed you dont have to online in order to use the TI 84 on your computer. Added benefit: You are actually using the latest colorful and most powerful TI-84 on your computer for free. For installation questions and more check out this video:
TI-84 Online Calculator Option 2:


TI-84-Plus-CE SmartView Emulator
Head over to Texas Instruments at https://education.ti.com/en/downloads/trial-software and download the free trial of the TI-84 SmartView Emulator for the TI 84 Plus CE Family. You will love to use the latest TI 84 on your computer. The download and installation of this TI 84 Emulator takes no more than 5 minutes and works like a charm.
TI-84 Online Calculator Option 3:
TI-84 Plus Wabbit Emulator
Our list would not be complete with the popular TI-84 Plus Wabbit Emulator. It has been around for decades, runs on Windows, Linux, Mac OS and Android Devices but not on IOS. Just go to here and download the free Wabbit Ti 84 Emulator. It allows you to do everything with your TI-84 on your computer or laptop. It is probably the most useful App to have when taking math classes in school and college.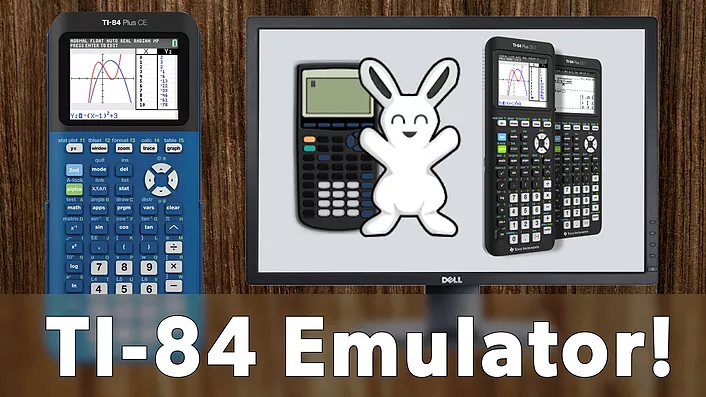 In case you need assistance on how to do the installation , click here for a step by step guide : https://www.ti84calcwiz.com/how-to-use-wabbitemu-a-free-ti-84-emulator/
Which Calculator is best for High School through College?
These are the reasons why the TI 84 Calculator is by far the most used Calculator in Schools and Colleges:
It is simple to use yet very powerful. Tasks like Graphing Functions, Solving Equations or Doing Arithmetic are easy to perform for both beginners and experts.
Take advantage of the different types of TI-84 Calculators. Pay about $150 for the newest TI-84 Plus CE Python or buy the TI-84 Plus Calculator Silver Edition for about $50.
It looks awesome: Full color backlit display, available in many different personalized colors, Impact resistent cover, Light weight. And how about Rechargable batteries that charge like your cell phone? No more AAA batteries to replace!
Load the TI84 Calculator with useful APPS and Games of your choice. Did you know you can play Tetris, Pacman, 2048, Minesweeper, Donkey Kong and 100+ other games?
Finally, add the pretty MathPrint, the High Speed Processor useful for complex computations and Modern Programmability using Python and Javascript to have the perfect tool at your finger tips.
In case of questions, contact The TI support team at 1800-TICARES to resolve anything instantly.